From the airport, take the airport road out to highway 11 and turn right at the light (designated by a red dot). At the next light, by Ken's pancake house, turn left. Go thru the next light. At the following light, turn right to get onto highway 19 and proceed 25 miles to Lapahoehoe.
Note that on Saturday and Sunday, the main tent will be located just on the other side of this light had you gone straight here (see red circle). Downtown Hilo is located within easy walking distance from the fields.
At Lapahoehoe you will make an extremely sharp right after the highway reaches the top of a gulch. Registration/Dinner/Party/Night Ultimate will be at the end of this narrow road.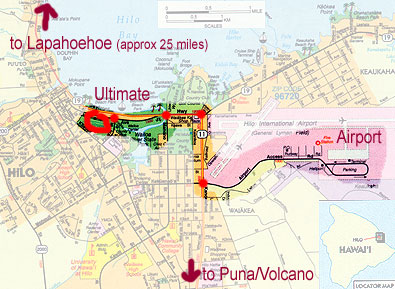 For a more pleasant drive, go straight at the 2nd light by Ken's pancake house and follow this road (Banyan Drive). Near the end of it you come to Japanese Gardens and Coconut Island. This road continues on to the 3rd stoplight where you can continue on the regular route by turning right.
---